The
Extra Mile

For Bar Exam Takers Feed
A Podcast for Bar Exam Repeaters from Celebration Bar Review®. We'll look at tips, techniques, and ways to improve your bar exam scores, plus interview successful bar exam takers for their stories and insights.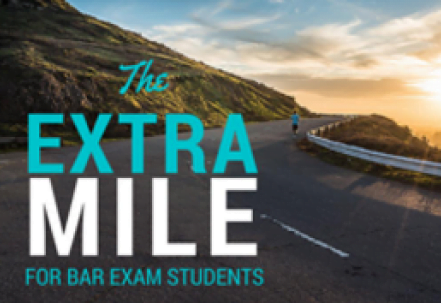 The
Extra Mile

For Bar Exam Takers Reviews
Thankful for this podcast. It's amazing the depth of content this podcast has!
Best podcast ever in the world
This is one of the most informative, uplifting and enlightening podcasts i've found lately. I leave every episode feeling positive and excited about what i've just heard.
I am so happy I found this podcast! Listening helps me keep motivation and determination of my goal. Thank you!
I really enjoy the podcast, very inspiring episodes!
We love hearing from our listeners so drop us a line!
You can always listen to the shows right here on the site, but you can subscribe through one of these apps listed below on your mobile device and new episodes will be delivered to you automatically.

Thanks for your interest in guest posting on The Extra Mile For Bar Exam Takers! I'm always interested in receiving well-written, unique posts from a variety of standpoints which will encourage and inspire my readers.